Looking for assistance on importing information to vendor details tab on stock item screen. There could be multiple data scenarios, and I can't seem to get the import to work for them all. Possible scenarios:
Add vendor detail to item with zero vendor details currently
Add vendor detail to item with existing vendor detail (vendor is different vendor from existing)
Updating vendor ID on existing vendor detail line
Combo of adding a new vendor line and updating an existing within the same import
Import Scenario Setup and Outcomes:
This import accomplishes adding to a record that has zero vendor details currently. I imported two lines with different vendors, and it imported both and marked the second instance as the default. This import also works with adding a new vendor detail line to the record. I imported one line where the vendor did not match the existing vendor detail vendor. This import cannot update existing vendor detail when vendor and UOM match.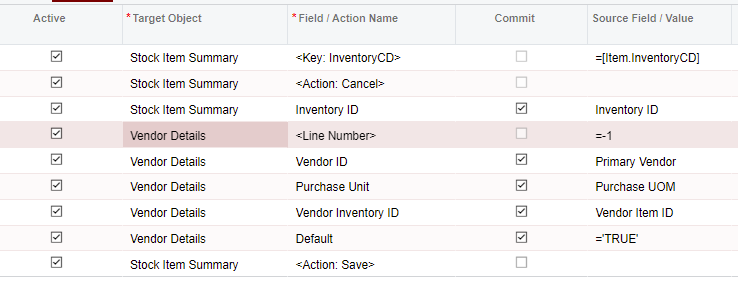 When there are zero vendor detail lines on the item, this import only adds the last instance of the vendor detail if the spreadsheet includes more than one vendor detail for the item even if the vendor is different. When there is an existing vendor detail line on the item, this import will update the vendor inventory ID for the item when there is only one vendor detail on the spreadsheet for the item. If there are two lines on the spreadsheet and 1 existing on the item, it will only add the last vendor detail from the spreadsheet and will remove the existing. This import cannot handle when there are two vendor detail lines on the spreadsheet for the same item or adding a vendor detail line to an item that already has vendor detail (it overrides and replaces).
I also tried an import scenario that used the @@VendorID but it didn't seem to get me any closer to being able to handle all possible scenarios. Any guidance is much appreciated!
Best answer by kristianharianja 31 August 2021, 10:36
View original