Hi,
I have been poking around Acumatica to get the Withholding Taxes to deduct from the Order Total instead of adding it or say display something like below
Instead of this: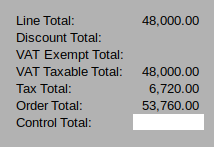 The sample picture is a P.O. with VAT of 12% and WITHHOLDING TAX of 2%. Acumatica sums up all Taxes and Line Total to get the Order Total. But we need it to be:
Order Total = Line Total + VAT (12%) - Withholding Tax
Is this something I can do in the Customization? Has anyone been able to do this project?