Has anyone come up with a good way to report on "time logged in" for a user.
I think it's a challenge with a web application like Acumatica because you aren't really "connected". As far as I know, Acumatica just knows the last time that you interacted with the system.
There is a "timeout" feature so Acumatica must somehow maintain the last time that you interacted with the system so it can require you to login if your last interaction was too long ago according to the timeout setting in the web.config file.
But I want to report on "minutes logged in" for each user.
It would be cool if Acumatica tracked when it "logs you out" according to a period of inactivity, but I don't think that's how it works. I think it only works according to the "timeout" feature described above.
Looking at the data in the Access History (SM201045) screen, I was initially thinking to count minutes between an Operation of Login and Logout, but it appears that Acumatica only records a Logout Operation if you specifically click SIGN OUT which makes sense according to my understanding of how the "timeout" feature works.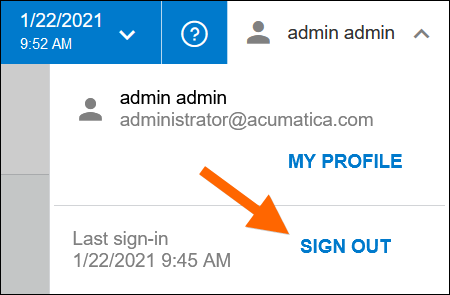 The best I can come up with is to use the data in the Access History (SM201045) screen for the Operation of Access Screen. My simplistic method is to look at the first Access Screen Operation for a day and compare it to the last Access Screen Operation, counting the minutes between. But there are problems with this method.
Does anyone have a better way for reporting on time logged in for a user?
Best answer by Neil Cantral 23 January 2021, 00:00
To augment the LoginTrace data we could take an archeological approach and dig for user activity to fill in the gaps. If a user creates or modifies documents the Audit History or scraping various document LastModifiedDateTime values could provide additional info.
Here was a quick attempt that does an okay job of capturing activity from the Accounting team:
It still doesn't do a good job of capturing the activity for my users that are primarily read-only. There a lot of holes for our salespeople who can work remotely and their activity inside of Acumatica isn't very clear.
View original