I know it's early but the end of the year comes fast and will be super busy. 
Start your reconciliation process now to help with the year-end process.  
Use the Annual Reports to help with this process.  Process and review by quarter to help with quarterly filings as well.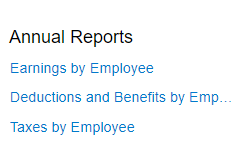 There is no close process within Acumatica Payroll. 
Simply continuing processing payroll on your normal cadence.  
Earnings are accumulated based on the Transaction date (Check date) so they are automatically reported in the correct months or year. 
The 2021 W-2s will be ready in mid to late December.  A notice will be posted here once they are available in the Government Reporting screen.  Once available, follow the screen prompts to create the needed forms for eFiling.  
If you have any questions - please review with your Acumatica support team.